The British Council IELTS Prize (East Asia)* is awarded to high-calibre individuals with the motivation to develop their career, by pursuing an undergraduate or postgraduate degree in any chosen discipline at a higher education institution that accepts IELTS as part of its admission requirements around the world.
The IELTS Prize encourages applicants to pursue their dreams in any discipline they desire. Essential eligibility criteria require that applicants:
hold a minimum band score of 6 in each of the four components of an IELTS test taken with the British Council in the East Asia region on, or after, 1 April 2020 and be able to produce a valid IELTS score as part of their application for the Prize
intend to pursue undergraduate or postgraduate studies locally or abroad at degree level in the 2021/22 academic year at a tertiary institution that accepts IELTS as part of its admission requirements.
Shortlisting and interviewing will take place in June 2021.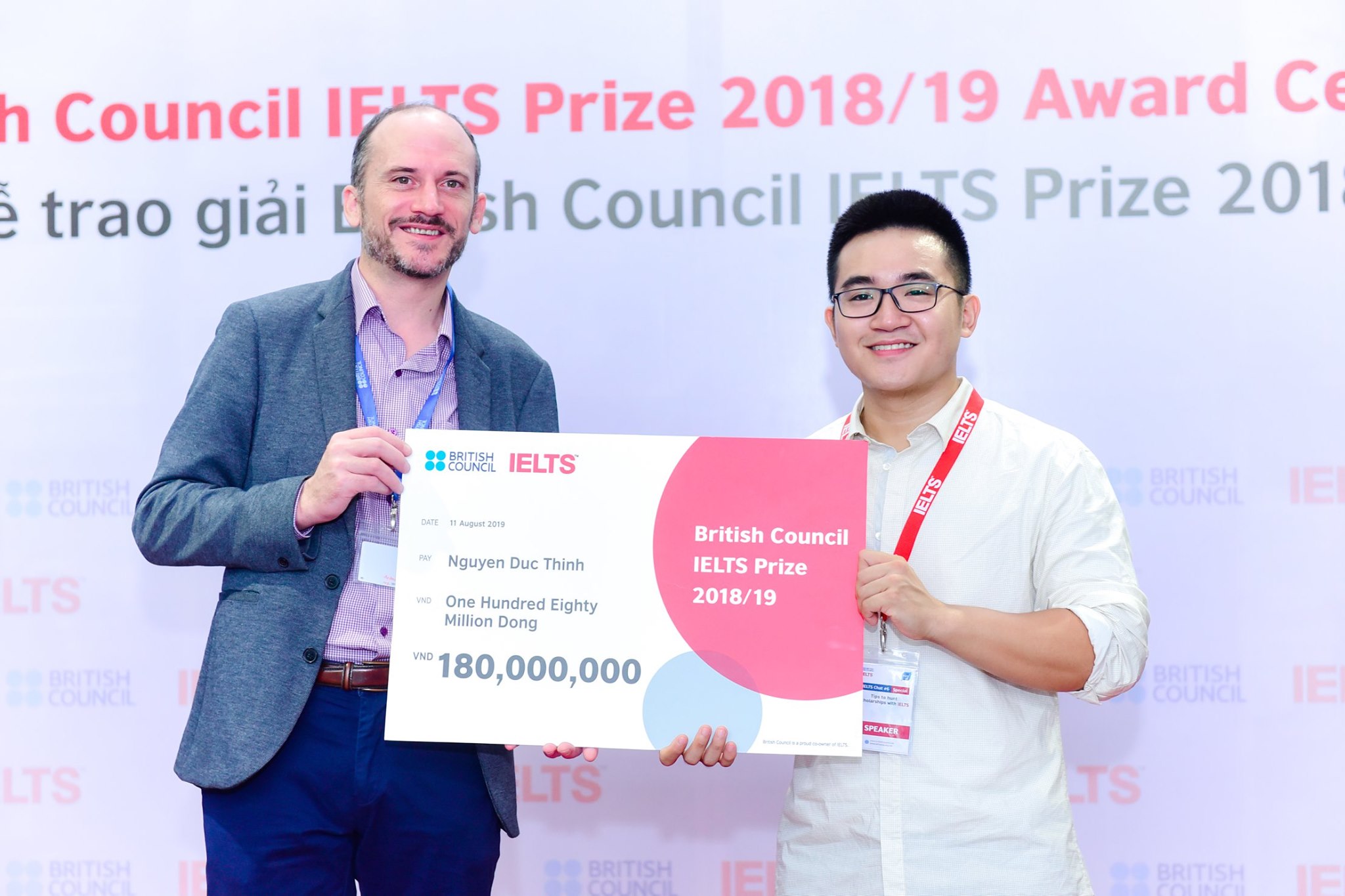 Nguyen Duc Thinh, the First Prize 2018/19 winner of Vietnam, currently studying Applied Arts in Journalism at the University of Prince Edward Island, shares, "I originally did not intend to apply for any scholarship for my study in Canada as I always thought of myself as an ordinary person with no particular outstanding academic achievement. A scholarship would be something out of my reach. On the day I registered for the IELTS test at British Council Hanoi's office, I was told by the staff person about IELTS Prize, which really intrigued me. That is why coming home I immediately went to the official website of IELTS Prize to read all about it. What I really love about this scholarship is that compared to some foreign government scholarships I have heard of, IELTS Prize does not really have complicated eligibility requirements, which is perfect for me. The selection process is also really straightforward, with clear instruction given through each email."

LOCAL PRIZES
First Prize: VND150,000,000
Second Prize: VND60,000,000
Third Prize: VND30,000,000
To apply for the IELTS Prize, you need an IELTS score. Haven't taken the test yet? Register now.
30 June 2021.
All applications must be submitted through our online application system. The process of selecting IELTS Prize winners takes less than three (3) months from the application deadline. See below for an overview of the whole process:
Take IELTS with the British Council and obtain a valid score
Opens December 2020
Carefully prepare your documents
Opens December 2020
Complete your online application
30th June 2021
Local panel interview
July 2021
Winners to provide Letter of Acceptance
August 2021